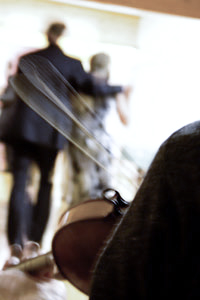 The Clarty Cloot Ceilidh Band plays music that is raw, committed and enthusiastic – for dancing and fun. The band's signature is the singing sound of fiddles. Add to that the flowing air of flute and whistle and back it up with the rhythm and fill of guitar and bouzouki.
Based in the Scottish Borders, the band has been on the go since the mid-90s and has a reputation which travels from Glasgow and Edinburgh, through the Borders and Dumfries and Galloway, into Cumbria and Northumberland, not to mention across the water – in Ireland.
The band's bread and butter is playing for Scottish ceilidh dancing. With a wide–ranging repertoire and a very experienced caller, our dances are fun and sociable, whether the audience are experienced dancers or are enjoying ceilidh dancing for the first time.