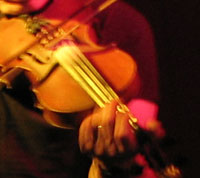 For the good are always the merry,
Save by an evil chance,
And the merry love the fiddle,
And the merry love to dance.

From The Blind Fiddler of Dooney by W B Yeats
Why have a ceilidh?

You can have any excuse you like - but ceilidhs are for fun.
But what is a ceilidh? The word derives from the Gaelic meaning a visit. It can also mean a house party, a concert or an evening of informal Scottish traditional dancing to informal music. The English Dictionary defines a ceilidh as "an informal social gathering, with songs, story-telling, music and dancing (Scots)"; Ceilidh dancing is fundamentally different from Scottish Country Dancing. It is much less formal and the primary purpose is the enjoyment of doing the dance. The Clarty Cloot is a Scottish Ceilidh band with a dance caller, playing for ceilidh dancing, and we have a wealth of music and song.
We have had the pleasure of playing for dances in all sorts of venues throughout the Scottish Borders, the South of Scotland and beyond. There's a sound that starts in your feet and turns into total energy on the dance floor. It's impossible to sit still. What a grand way of socialising. Ceilidh dancing is great for breaking the ice whether the crowd are weel-kent faces or relative strangers.
There is a mood for every occasion. From the more relaxed and easy approach with a steady beat to guide the steps, to the energetic, dizzying and driving rhythm that has the dancers birling wildly around the dance floor.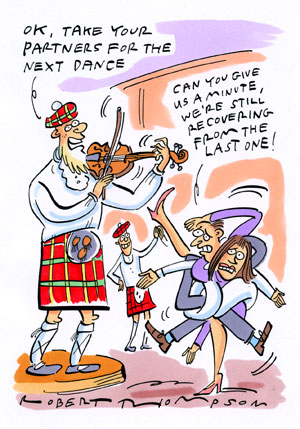 Cartoon courtesy of Robert Thompson and The Guardian
You don't have to be a dance expert to enjoy ceilidh dancing - just keen to have a good time. If you haven't danced before, don't worry. Let the music lead you. Our dance caller will help with the steps. It's easy to get the hang of it.
Ceilidh dancing is the most accessible form of our traditional dancing. The basic dances are all fairly easy to master, mainly round-the-room and set dances. The emphasis is on having fun and being sociable - there is none of the regulation and competition that marks other forms of traditional dance. Key ingredients of a good ceilidh dance include enthusiasm, a good band, and usually - but not essentially - drink.

Scotland is seeing a revival of ceilidh dancing as a sociable form of entertainment, especially in the Central Belt and it includes a very healthy contingent of young folk. If dancing is .. the vertical expression of the horizontal intent.. I'm not sure what this means for ceilidh dancing!
The Clarty Cloot Ceilidh Band will entertain you and will make sure you and your friends have a great time. The enthusiasm is infectious and the music is irresistible. A good ceilidh will bring people together in sociable and friendly circumstances.
Clarty Cloot ceilidh dances usually end with the Circassian Circle - everyone on the floor for a progressive reel and the last chance of the night to meet fellow dancers as they swirl around the circle. Finally, the company joins hands for Auld Lang Syne: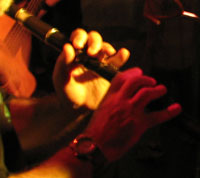 And there's a hand, my trusty fiere!
And gie's a hand o' thine!
And we'll tak a right guid-willy waught,
For auld lang syne.

Robert Burns
Some good excuses for having a ceilidh dance
If you need an excuse, here are some ideas:
Social, a Precursor to Conjugation, Ice Breaker - meet people and get to know them. Encourage good company.
Celebrations, Special Occasions and Functions - weddings, birthdays, anniversaries, wakes, any excuse for a party.
Corporate - launch a new product, top-off a corporate event, add to staff-training sessions, promoting services, entertain customers - they'll be grateful.
Events And Festivals - no festival is complete without a ceilidh dance!
Tourism And Entertaining Visitors - this is real Scottish culture. Help visitors and guests gain a long-lasting impression of our hospitality and sociability.
Happiness, Health & Fitness - fun, aerobic enjoyment, take a break from the telly, dissolve the stress of work and everyday living, enjoy a birl with friends, beat the blues.
Heat The Hoose - big hooses and wee hooses, village halls and castles an a, get your pals round and have a ceilidh dance. Wee hoose and too many friends? Heat the marquee!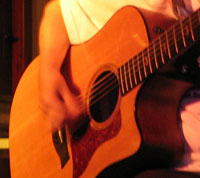 Culture And Music - was dance the earliest reason for the existence of music?

Dancing - good music gets the feet tapping. From the considered rhythms of the slower sets to the exhilaration of Strip the Willow. Heart, body and soul engaged.

Need Some Other Excuse?

Fundraisers - for the village hall, local causes, the Brownies

Local fetes, fairs and gala days

School leavers' dances

Retirements

If you need a great band for a guid Scots ceilidh contact Clarty Cloot!